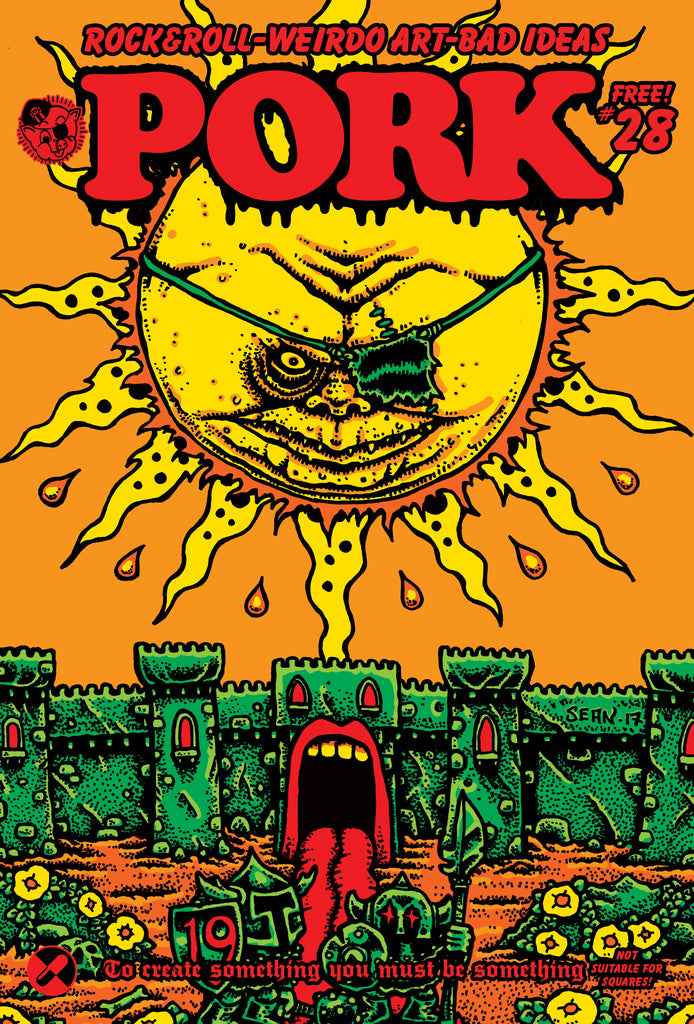 PORK #28
$ 5.00
24 giant pages of PORK magazine - Rock&Roll, Weirdo Art & Bad Ideas! Lots more color comics in this issue! 
The theme is the Sun for the new year & the return of the sun as winter leaves the northern hemisphere. Featuring a full color Comic Island centerfold with the return of Pipu, Tony Maggot & the Aquababies by Sean & Katie. Lots of Dungeon Degenerates content - featuring how to paint the Hand of Doom miniature & excerpts from the latest World Book looking at the Legions of the Morbad from the Guides to the Borderlands by Eric Radey & a teaser of our next Dungeon Degenerates book series - the Handbook of Horrors - guide to the monsters of Dungeon Degenerates.  
Comics by Kelly Campanile, Max Clotfelter, the Forsley Brothers, Andrew Goldfarb, Ben Lyon, Prilzor, Isaac Soto, Chase Tail
Foto Funnies return in PORK #29 
Bad Ideas Columns by Sean "the Goblin" Aaberg, Andrew Goldfarb - Ask the Slow Poisoner, Tim Goodyear's Video Tonfa, Jake Kelly's Rock & Wrestling, Dan Shoup's Archaepop, Chris Pittman's controversial "Punk Is Dead" piece in the new Punky's Punk Shop section, H.P. Lovecraft & some other little tid-bits I threw in.
Featurettes on Denim Demonology, the importance of Motley Crue & the premier teaser of Sean Aaberg's tarot deck! 
We review all the newest rock&roll records, books & zines. It's gotta be seen to believed. The only magazine that matters. Crammed to the gills with real street rocker junk scraped from the mean streets of porkland. PORK magazine. At the Goblinko Megamall.